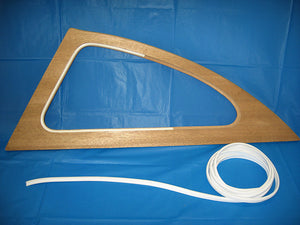 1-Part Windshield Molding
Regular price
$6.50
$0.00
The "old style" 1-part windshield molding fits into the 1/8" slot in the wood windshield frame on the outside.  This molding was used by Lyman for their post WWII outboard and inboard models until 1964 when the "new style" 2-part windshield molding was developed.  
This 1-part molding is run off the original dies and drawings and was also used by a lot other wooden boat manufacturers of that era such as Thompson, Cruisers Inc, and others that utilized a wood windshield panel with recessed glass. 

Sold by the foot at $6.50 per foot.  Price increase is due to extreme price increase in raw material.

---
More from this collection