Lyman Boats LLC
We take great pride in being the home of the original Lyman Boat Works archives, including hull records, blueprints, photographs, patterns, jigs, and tooling all used to build these iconic boats. We serve as the center of excellence for the Lyman brand and the preservation of its history.

Tom Koroknay a.k.a. "Doc Lyman" began restoring Lyman Boats in 1983, purchased the Lyman Boat Works archives and tooling pertaining to wooden boat production in 1988-91, and authored the historical book "Lyman Boats - Legend of the Lakes" published in 2004. Additionally, over the past 30+ years, he has provided educational services at several antique/classic boat museums across the country presenting on the history of the Lyman Boat Works.  

Since 1997, this website and online catalog have been the leading place to go for all your Lyman Boat restoration parts and supplies. Our online Lyman Boat Repair and Restoration Question and Answer page recently migrated to social media and is a great resource as well, promoting the preservation of Lyman Boats and serving the interests of owners throughout the world. We also provide an extensive listing of Lyman Boats for sale, historical documentation and memorabilia, and officially trademarked Lyman apparel and accessories. 
Lyman Life - Quality, Traditional Lifestyle Clothing
Lyman Life is the exclusive officially licensed purveyor of Lyman trademarked apparel and accessories. Lyman Life is a lifestyle brand rooted in the family, quality, and tradition of Lyman Boats. We are proud to create clothing and accessories to celebrate the lifestyle and the legacy that is Lyman.
Shop Lyman Life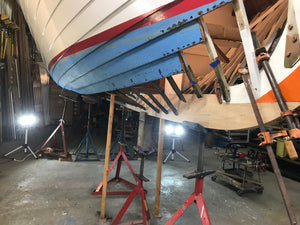 Lyman Boat Repair & Restoration Q&A
"Doc Lyman" is standing by to assist with your Lyman Boat repair and restoration questions. Come join the group for a plethora of information regarding the repair, restoration, and history of your Lyman and help keep the Legend alive!
Join the Conversation
Follow Lyman Boats on YouTube
Follow "Doc Lyman" on YouTube as he chronicles the rich history of the Lyman Boat Works and shares many stories from 40+ years in business.
Follow us on YouTube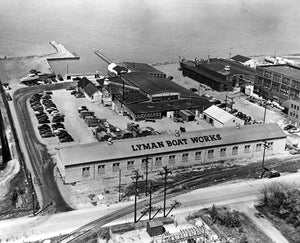 Lyman Boat Works History
Click the link below to explore how the Lyman Boat Works built their legendary lapstrake "Clinker Built" inboard and outboard runabouts. 
Lyman Boat Works - Tooling

Lyman Boat Beer Works
Founded in Cleveland, Ohio in 1875 and later relocated to Sandusky, Ohio, the Lyman Boat Works is known for building wooden, lapstrake "Clinker-Built" boats with legendary craftsmanship, unsurpassable utility, and steadfast seaworthiness in rough Lake Erie water.  Founded in 2016, Lyman Boat Beer Works builds on this legacy through finely crafted, deliciously drinkable beer honoring the history and tradition that embodies the Lyman brand.  Our beer in currently brewed at Sibling Revelry Brewing Company in Westlake, Ohio.  
Follow LBBW on facebook